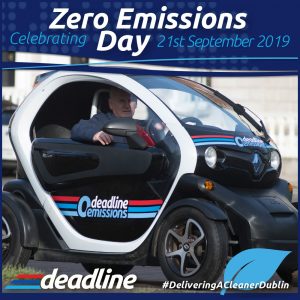 To celebrate Zero Emissions Day, we've highlighted five steps we've taken as a business to reduce our emissions and be more environmentally responsible…
1. Our Zero Emissions Twizy
The Renault Twizy is a two-seater, electric vehicle and is technically classified as a quadricycle. It has a range of 100km, or 62 miles before it requires a recharge, which takes about 3 hours. The Twizy is super compact and light, with a length of just 2.37m and a width of 1.19m. The seats in the Twizy are arranged in tandem, so the passenger seat is behind the driver and it has a top speed of 50mph.
#DeadlineCouriers #DeliveringACleanerDublin
Call us for any information about our local courier, urgent (direct) courier, door to door national parcel delivery and express international transport services at 00353 1 6610000 or email us at info@deadline.ie. We are also the first courier company in Ireland to provide a Zero Emissions courier and transport service.