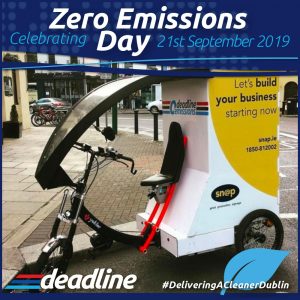 To celebrate Zero Emissions Day, we've highlighted five steps we've taken as a business to reduce our emissions and be more environmentally responsible…
5. Our Green Partnerships
Since we made our commitment to support Ireland's climate change targets, we've worked with various companies to build green partnerships. In June, we partnered with The Bretzel Bakery to deliver freshly baked bread to their stand at Bloom in our specially adapted bicycles.
#DeadlineCouriers #DeliveringACleanerDublin
Call us for any information about our local courier, urgent (direct) courier, door to door national parcel delivery and express international transport services at 00353 1 6610000 or email us at info@deadline.ie. We are also the first courier company in Ireland to provide a Zero Emissions courier and transport service.