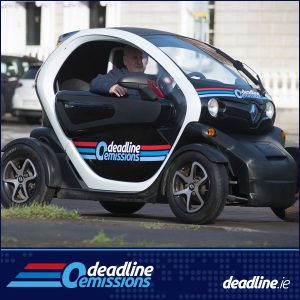 Last month, we unveiled a new zero emissions fleet of vehicles…
We added two specially adapted bicycles, a Twizy and a BMW C1 Evolution electric motorbike which have all taken to the streets of Dublin to carry out deliveries.
The Renault Twizy is certainly an eye-catching vehicle, but here are the facts you need to know about the coolest delivery vehicle in the city.
The Renault Twizy is a two-seater, electric vehicle and is technically classified as a quadricycle

It has a range of 100km, or 62 miles before it requires a recharge.

The Twizy is super compact and light, with a length of just 2.37m and a width of 1.19m.

The seats in the Twizy are arranged in tandem, so the passenger seat is behind the driver.

It has a 17bhp electric engine and a top speed of 50mph.

It takes around three hours to recharge the Twizy.
Check our more photos of the Deadline Twizy on our Facebook page.
The new additions to Deadline's fleet create no emissions that could pollute or be harmful to the environment. As one of Dublin's leading courier companies, we acknowledge our responsibly to find alternative methods of conducting business, ensuring we do so in the least environmentally damaging way possible.
Call us for any information about our local courier, urgent (direct) courier, door to door national parcel delivery and express international transport services at 00353 1 6610000 or email us at info@deadline.ie. We are also the first courier company in Ireland to provide a Zero Emissions courier and transport service.