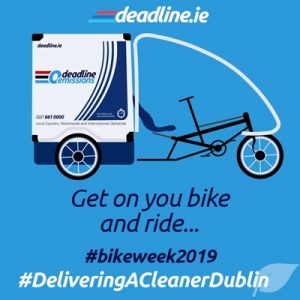 Celebrating BikeWeek 2019…
Today marks the beginning of #BikeWeek2019! ? We're big fans of swapping fuel guzzling vehicles for bikes in order to keep our city clean and green. Head over to the Bikeweek.ie website and use their carbon calculator to show just how much CO2 you could save by swapping the car for a bike.zero emissions vehicles.
#DeliveringACleanerDublin #Dublin #BikesForChange
Call us for any information about our local courier, urgent (direct) courier, door to door national parcel delivery and express international transport services at 00353 1 6610000 or email us at info@deadline.ie. We are also the first courier company in Ireland to provide a Zero Emissions courier and transport service.